"Surrounded by his family, Lt. Gen. Charles "Chick" Cleveland, USAF (Ret), passed away peacefully in his sleep at his home in Montgomery, Alabama, on May 22, 2021.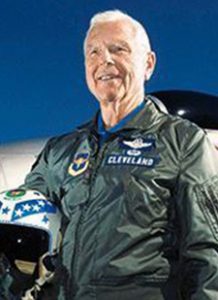 History
Born in Honolulu, Hawaii, November 13, 1927, Charles Goold Cleveland grew up in Woodstock and Albany, New York. He graduated from the United States Military Academy and was commissioned as a second lieutenant in the Air Force in June of 1949. While at West Point, he met and married his wife of 54 years, Frances Riedel, from East Orange, NJ.
Military Career
Upon graduation, Cleveland applied for a combat assignment in Korea and was moved to an F-86 unit. Assigned to the 334th Fighter Interceptor Squadron at Kimpo Air Base, Korea, he gained credit for four MiG-15s destroyed, two probables, and four damaged.
On 11 April 2000, Gen. Cleveland was officially recognized as a fighter Ace, meaning five aerial combat victories, by the American Fighter Aces Association (AFAA), following a lengthy review of one of his probable victories. Additional confirmation by the Air Force would come from Russian archives. This confirmation by the AFAA and the USAF made General Cleveland the 40th jet Ace of the Korean War.
Cleveland held numerous command and staff positions including a tour as executive assistant to General Westmoreland in Vietnam in 1966/67. He held senior leadership positions including Commander, Air University at Maxwell AFB, Alabama, from which he retired in 1984 as a lieutenant general. His logbook reflects 4500 flying hours and 145 combat missions in Korea and Vietnam.
His decorations include: Distinguished Service Medal, Legion of Merit, Distinguished Flying Cross with oak leaf cluster, Meritorious Service Medal with oak leaf cluster, Air Medal with three oak leaf clusters, Air Force Commendation Medal, Army Commendation Medal, Republic of Korea Order of Military Merit, and the Silver Star. In 2015, Cleveland was one of 77 Aces to receive the Congressional Gold Medal in a ceremony in Washington DC.
Life After Military
Following retirement, Chick Cleveland was appointed as the Commissioner of Human Resources for the State of Alabama after working as the Executive Director of the Montgomery Area United Way. It was during his second retirement that Cleveland's love for his community was most evident. He was the founder of the Montgomery Area Food Bank, Kids and Kops Day, and SAYNO, a drug awareness organization. He was an original member of the unifying organization One Montgomery and an early graduate of Leadership Montgomery.
While he focused his efforts on serving the underserved and underrepresented populations in the Montgomery area, he had many other interests. He strongly championed Fran's love of the Arts, remaining a faithful supporter of Landmarks, the Alabama Shakespeare Festival, and other arts organizations. His two favorite endeavors in the later years of his life were the Alabama World Affairs Council and the American Fighter Aces Association. He was president of each for nearly a decade. His passion, however, was tennis, which he played religiously until he was 93 years old.
Charles Cleveland is survived by his son, Christopher Cleveland, his daughters, Jane Cleveland, Alice Prince, and Susan McCarron, and by many grandchildren and great grandchildren. He is preceded in death by his wife, Fran Cleveland, nee Riedel."
A memorial service was held at Leak Memory Chapel in Montgomery, Alabama, on May 27, 2021. In lieu of flowers, a memorial gift can be made to the American Fighter Aces Association in his name.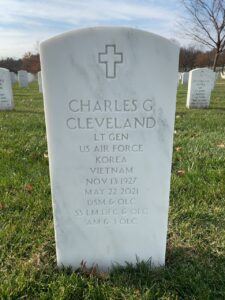 General Cleveland's body was interred at Arlington National Cemetery on September 10, 2021, Section:68, Grave:75. He is buried next to his wife Eleanor, who passed away in 2004.
Source: https://www.dignitymemorial.com/obituaries/montgomery-al/charles-cleveland-10203916