Edwin Dale Boggie (Col, USAF ret) "Headed West" on May 28, 2022.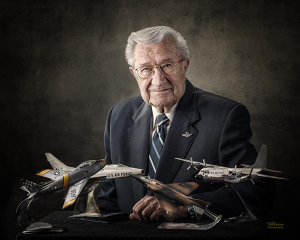 "Date of Birth 22 August 1930 – Date of Passing 28 May 2022
An amazing man…a cowboy, a United States Air Force fighter pilot, a family man, a true friend to many, an inspiration to many more was welcomed to the gates of Heaven on 28 May 2022. Surely he was first greeted by all of the horses he loved and trained over the years with Gold Dust and Blaze waiting for him at the trailhead. And not just horses, but dogs (and yes) even a few cats waiting for their buddy. After that the people waiting for him… former pilots, military colleagues, his Uncle Tex, family, friends, and then the line of cowboys waitin' to shake his hand.
Born in Portland, Oregon close to where his parents worked in a lumber camp across the river in Washington State. When he was due to be born, his mother took a log train (the only mode of transportation) to the hospital in Portland. She returned to the camp a few days later with Dale (or "Boggie" which was all that was listed on his birth certificate). Growing up in Washington and California during the Great Depression he became a ranch hand and cowboy during the summers. He had his own horse for roundups and cattle drives and learned to drive big trucks at age 13 hauling hay and cattle before he was old enough to have a license.
During his senior year in high school, Dale met an ex-WWII fighter pilot who was starting an aviation class. Dale immediately joined the class, and so began his aviation career. In 1950 he graduated from a 2-year degree program with an Associate in Arts degree and a license as an Aircraft Mechanic certified by the Civil Aeronautics Administration (now FAA). In November of 1950, he enlisted in the Air Force starting out as an airplane mechanic servicing aircraft in Korea during the Korean War. Seeing his potential, he was accepted into Officer Candidate School. He was recognized as a Distinguished Graduate and was commissioned as a 2nd Lieutenant in 1953. In 1955, Dale began Pilot Training in Arizona; and in 1956 graduated #1 in his class and was awarded his Silver Wings as a Jet Fighter Pilot. He chose to fly the F-86 Sabre, which remained his favorite aircraft.
In 1958 Dale met a lovely young woman named Sharon Trost, soon to be his wife and mother of their two girls. They eloped in 1959 in Las Vegas, NV at the Little Church of the West. After a tour in Okinawa, Japan he returned stateside with his bride and two daughters and attended the University of Southern California to obtain a Bachelor of Arts Degree in Cinematography for the Air Force. His skills were needed for making documentaries, photographing missile launches, photo mapping missions, training films and reconnaissance missions during the Vietnam War.
His flying career had many twists and turns. While stationed in Palm Beach, Florida he made the best of his free time flying the F-86 in the movie "The Hunters" being filmed in Palm Beach. He performed flying scenes for Robert Wagner who co-starred with Robert Mitchum.
He survived some life-threatening situations, including his F-86 catching fire blowing up at 40,000 feet. He ejected just before it blew and had a 26,000-foot free fall before his parachute automatically deployed at 14,000 feet; the altitude of ejection set a record and recorded in military journals and made him an automatic member of the Caterpillar Club. Another miracle was when he lost 3 engines during a monsoon on a C-130 during a top-secret mission and landed on a wing and a prayer in the Philippines, but "they were never there". Just a couple of his many adventures.
Over Boggie's career, he accrued 315 combat hours and 4,300 total flight hours in 26 different aircraft, stationed at numerous bases, countless assignments, including the Pentagon, before being stationed at Lowry Air Force Base where he retired in 1978 after 28 years to call Colorado home. He took a little time off before pursuing another career as founder of Excel Services providing audio-visual, photography and graphic arts to military bases. He continued to stay active in many military groups, the Quiet Birdmen and the Daedalians amongst them. He also pursued his other passion, horses! In 1979 he became a member of the Roundup Riders of the Rockies and later on joined the Hole in the Wall Gang. Holding positions of leadership in many he was a valued member, volunteer, and contributor, and treasured the camaraderie of fellow men that shared his passions.
Dale was a man of few words but commanded respect and trust… not with orders but just because of who he was. He was one of a kind. He loved his ladies of the STF (you know who you are!) with our spirit and lust for life. His physical body was broken beyond repair. But his Spirit, his Soul is boundless and lives on, loved by the people who knew him and by God himself.
Survived by his wife Sharon, daughters Linda Boggie (Sikke Minnema) and Lisa (John Anderson). Grandsons Brycen Calvin (Amanda Leavitt) and Matt Anderson (Hannah Smith). Grandson Jason Anderson (Laura) and children Emily, Alex Quintana, Jordan Heronimus, Joseph and Jeffrey Jaramillo. Sikke's family in the Netherlands Karel Minnema (Kirsten) and their children Zoë and Kay, Ernest Minnema and daughter Lotte, Marike Minnema (Yelins Mahtat) and their sons Amithren and Imrid.
He was at peace knowing his final resting place was secured by his son-in-law John, and he would be eventually surrounded by the love his life, Sharon, his daughters and their families.
Aim High, Fly, Fight, Win….and Better Days."
Dale's Funeral Service included 4 Fly-Overs;
1st Flyover – P-51 and a Provost Jet flying North to South along I-25 with a left 270° turn flyover
Lead pilot Mark Johnson Offered by Mike Bertz
2nd Flyover – Chain of planes flying East to West with a left 270° turn to fly north over I-25
Team Leader: Tom Burlace
3rd Flyover – Four planes flying the Missing Man formation from North to South
Scott Mc Millan and Tom Burlace leading.(1) Don Nelson in a T-6 broke off to the west for the missing man.
4th Flyover – At the cemetery by two F-16s from Buckley ANG. The horse-drawn carriage with Boggie's horse "RV" following with an empty saddle was a tear-jerker. The day before he died, they took his horse to the hospital and brought Dale out to the courtyard where they could say goodbye. I saw a photo of the horse rubbing his head on Dale sitting in a wheelchair. Wow! (2)
(1) Source: Notice from Mike Paradise about Boogie's passing, obituary from Edwin Boggie Obituary – Castle Rock, CO (dignitymemorial.com)
(2) Source: Mike Paradise
To read Dale's full bio on the Super Sabre Society website, go to Boggie, Edwin Dale – Super Sabre Society