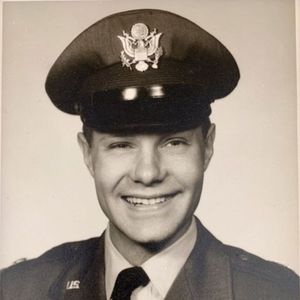 SSS Member Donald B. "Hot Dog" Mackey (85) Headed West on 31 October 2019. His early F-100 units were the 3595th CCTW at Nellis and the 336th FDS/4FDW at Seymore Johnson in 1958.
Don was born March 12, 1934, in Corbin, Kentucky to the late Col. Elbert T. and Flora B. (Bryant) Mackey. As a child, he and his siblings (all with perfect pitch) performed on the radio as "The Mackey String Quartet". Don loved music and played several instruments. He played baseball for the University of Kentucky and was offered a contract to pitch for the St. Louis Cardinals organization but chose to remain in school receiving his B.S. from the U.K. in 1956. Go Wildcats!
He worked for Ford Motor Company in Indianapolis and Cincinnati for 37 years rising through the ranks from purchasing to Assistant Plant Manager. In 1956, Mackey enlisted in the U.S. Air Force achieving his childhood dream of becoming a fighter pilot and supersonic flight. He trained at Lackland, Malden and Luke A.F.B. where he flew the F-84F. He had advanced training in Nuclear weapons delivery and air to air combat in the F-100 at Nellis A.F.B later flying the F-100 in the 336th tactical fighter wing reaching the rank of Captain. Don joined the Air Force Reserve but was recalled to active duty in 1962 (Cuban Missile Crisis). He was transferred to Inactive Reserve in 1975.
Don was an avid golfer and enjoyed a single-digit handicap at the midpoint of his life. He even won a trip to Europe for a hole-in-one!
Don was a mentor for the Florida Special Olympics. He was a life-long stamp collector beginning this hobby as a child with his father's collection. He was a terrific dance partner. He enjoyed the highs and lows of a little casino gambling too! His family is grateful for the many trips he planned including family cruises and ten trips to Hawaii.
Don is survived by his wife of 40 years, Joyce, of Venice, FL; former wife of 24 years Jo-Ann, of Indianapolis, IN; daughters Donna Coy (Mike), of Syracuse, IN and Sharon Kissell (Dan), of Davie, FL; stepson Gary McDermitt (Wendy), of Wesley Chapel, FL; step-daughter April Terpstra, of Venice, FL; brother Col. Wilfred Glenn Mackey (Aurea), of Huntington, NY; five grandchildren, three great-grandchildren, one nephew and one niece.
Funeral Services were held Friday, November 8 at 12:00 noon at Wilson St. Pierre Funeral Service and Crematory-Greenwood Chapel. Burial will follow at Forest Lawn Cemetery with full military honors. Online condolences at wilsonstpierre.com.