SS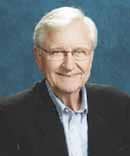 S member Donald Ray Donald Ray Polan, age 82, passed away on December 26, 2019, after a six-month battle with acute myeloid leukemia (AML). He was born to Lee Roy Polan and Alice McCown Polan in Wichita Kansas on October 12, 1937. Growing up in University Park, Don was a Boy Scout and attained the highest rank of Eagle Scout. He graduated from Highland Park High School in 1955 where he made lifelong friends. He attended SMU, where he belonged to the Kappa Sigma fraternity and was in the Air Force ROTC. Don graduated from SMU in 1959 with a business degree and a commitment to serve a tour of duty as a pilot in the USAF.
After stateside pilot training, Don was deployed to Lakenheath, England flying F-100 Super Sabre fighters during the cold war. Following his Air Force service, he became a pilot for American Airlines where he remained for 35 years until mandatory retirement at age 60 in 1997. Airplanes and flying were a major passion for Don from an early age.
He earned his pilot's license when still in high school and even as late as this past June was flying his beautiful Beechcraft Bonanza until the onset of illness in June curtailed his flying activities. Don generously donated his Bonanza to EAA Chapter 59 primarily to benefit and encourage young people to embark on aviation careers and to give full flight training scholarships to deserving youth. Don was loved and admired by so many that his house was ground zero for neighbors and friends from far and near. In good weather, his front porch drew like a magnet. Age or gender didn't matter as Don welcomed whoever came along. Don's acts of kindness and generosity to us all will never be forgotten. Don was the best friend that anyone could ever hope to have.
In addition to flying, Don loved music, cars, impressionist art, HP and SMU football, jig saw puzzles, good food and especially chicken fried steak and PIE! Don loved to travel both in the U.S. and internationally, and this love continued even after he retired as an airline pilot. He was a devout Christian, a long-time member and devout supporter of Preston Road Church of Christ, and a weekly participant for decades in a Bible Study group that meets at The Dallas Country Club. Don was predeceased by his parents and a brother, Jason Lee Polan. He is survived by his other brother Roger Polan, sister-in-law Carolyn Polan, and Roger's son Matthew Polan and daughter Emily Randle, Emily's daughters Wynne Randle and Tess Randle, plus numerous cousins and friends. A memorial to Don will be held at 12:00 PM on Saturday, January 25 at the Preston Road Church of Christ, 6409 Preston Rd in Dallas, followed immediately by a reception in the Church Commons