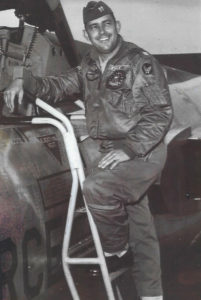 SSS Charter Member Doyal "Champ" Wyrick "Headed West" on Thursday, December 26, 2019, in Alexandria, on his 65th wedding anniversary. Doyal was the son of Ural B. and Osie May Wyrick and born near Kempton, IN, on April 6, 1932. His passing came after a prolonged battle with prostate and spinal cancer as a result of "Agent Orange " exposure in Vietnam.
Doyal grew up as a farm boy with all the associated labor demands and attended Sharpsville and Hemlock, IN, elementary schools. He was a 1950 graduate of Kokomo High School, Kokomo, IN. Before joining the USAF, he worked for a spring manufacturing business in Center, IN, and later as an employee of Sears Roebuck Company. Doyal enlisted in the USAF in September of 1951 and completed basic training at Sampson AFB, NY, with a follow-on assignment to Aircraft and Engine Mechanics School at Sheppard AFB, TX, in December of 1951.
During the Korean War and he applied for flight training as an Aviation Cadet. Flight school had a backlog, at that time, and he was placed in casual status and assigned to crew chief duties on KB – 29s at Lockbourne AFB, OH, from August to December 1952. A flight training slot became available in December 1952 and he reported to Lackland AFB, TX, for Aviation Cadet Pre-Flight Training on 2 January 1953. After Pre-Flight training, he was assigned to Kinston AB, NC, for Primary Pilot Training flying the PA -18 and the AT-6. His follow-on assignment was to Webb AFB, Big Springs, TX, in October of 1953 where he flew the T-28 and his first jet airplane the T-33.
Upon completion of his training, he was awarded his pilot wings and commissioned a Second Lt. in March of 1954. April of 1954 found Doyal at Nellis AFB, NV, training to fly the F-86 fighter and checking out and learning the skills of air-to-ground and air-to-air gunnery techniques. "Champ" reported to his first active-duty fighter squadron, the 452nd Fighter Day Squadron at Foster AFB, Victoria, TX, in late July 1954. He also married the love of his life, Carmen, in December of 1954 in Hemlock, IN, and together they became the proud parents of three daughters; Mona, Karen, and Tari. While at Foster "Champ" flew the F-86 and T-33. Also, while at Foster Doyal had a very memorable experience as the 450th Fighter Wing transitioned to the new supersonic F-100C aircraft. After picking up a brand-new F-100C from the factory in CA and enroute to Foster the aircraft developed mechanical issues with pitch control necessitating his ejection approximately 20 miles East of El Paso, TX. Doyal was half of the only two brothers that flew the F- 100 that both experienced aircraft ejections from the F-100.
On the 10th of November 1955 Doyal picked-up a new F-100 Los  Angeles on the 10th of November 1955 expecting to fly it non-stop directly back to Foster since, for once, the weather was good all the way. Over El Paso, at 41,000 feet, the airplane suddenly started to nose up slightly. Doyal applied forward pressure to the stick to bring the nose down, but there was no response. Neither did it respond to trim. Aileron and rudder were still effective, and by using a combination of turns and power adjustments, Doyal was able to maneuver the airplane down to 15,000 feet in a desolate area east of El Paso, where he then ejected.
Foster AFB fell victim to base closure in 1958 and Doyal and Carmen and children made the move to Bitburg AB, Germany with an assignment to the 23rd TFS of the 36th TFW flying the F-100C and F-100F. He was promoted to Captain in 1959 and selected to return to Nellis AFB for checkout and training in the new F-105 Thunderchief. He participated in the ferry of F-105s from Brookley AFB, AL, to Bitburg non-stop across the Atlantic, a nine-hour and thirty-minute flight with departure before sunrise and landing at sunset.
Next,  he was reassigned to the 4520th Combat Crew Training Wing at Nellis AFB flying the T-33, F-105B, F-105D, and the F-105F models and teaching fledgling F-105 pilots the rigors of combat training. He was assigned, during the Vietnam war, to the "Big Red 1" Infantry Division as an Airborne Forward Air Controller flying the O-1 "Birddog" and the UH-1 helicopter. "Champ" flew a total of 762 combat missions with 1,062 hours of combat time and was awarded the Silver Star for bravery.
After his Vietnam tour, he attended the Armed Forces Staff College in Norfolk, VA from July 1968 to February 1969 after being promoted to Major in 1967. Completion of the joint service school once again brought an assignment and return to Nellis AFB teaching F-105 Wild Weasel tactics to newly formed Wild Weasel crews whose mission was to search out and destroy enemy Surface-to-Air Missile (SAM) sites and antiaircraft gun emplacements. He was promoted to Lt./Col. In 1969 and assigned as a Plans Officer at Tactical Air Command Headquarters, Langley AFB, VA. A subsequent assignment took him to the 314th Air Division for a remote one- year tour at Osan AB, Korea where he worked in the Tactical Air Control Center.
His return in 1975 to stateside duty and England AFB, LA, was his end assignment. He served as the Chief of Base Operations. In this capacity, he was responsible for Base Operations, two gunnery ranges, and the small arms range.
Doyal retired in February 1982 with combined enlisted/commissioned service time of 31 years. During his career, he flew twelve different types of aircraft and accumulated approximately 4900 hours of flying time. "Champ" is survived by his wife of 65 years, Carmen, three daughters, eight grandchildren, and eleven great-grandchildren. He is also survived by a younger brother, Donald, of Sun City Center, FL. He was a member of the Super Sabre Society, the Red River Valley Fighter Pilots Association, and the Quiet Birdmen (QBs).
 SSS