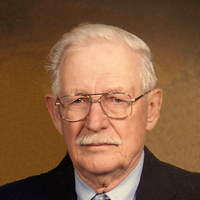 Edward A. Gellings (LtCol USAF, Ret) "Headed West" on December 20, 2019
LTC Edward A. Gellings was born on 13 May 1930, in Atchison, Kansas the son of Henry and Anna (Ernzen) Gellings. He graduated from Maur Hill Prep School in 1948, and joined the United States Air Force in 1950, graduating from electronics school in 1951. In 1953, he graduated from pilot school and received his pilot wings at Luke Air Force Base.
He and the former Marlene Durst were united in marriage at Sacred Heart Church in Atchison, Kansas, on 28 September 1957.
Ed proudly served his country and was a veteran of the Vietnam War, where he took on enemy gunfire and was forced to make an emergency landing with no fuel and was awarded a Distinguished Flying Cross. He received numerous medals, including Air Medal (7), USAF Commendation Medal, Good Conduct Medal, USAF Combat Alert, National Defense, USAF Expeditionary Force Vietnam, and Vietnam 4 Battle Stars. He retired after twenty-two years of service in 1972.
After his military service he returned to Atchison, where he was a salesman for Phalen's, a supervisor of inventory for Rockwell International and then began as an operator at Midwest Grain Products, where he eventually became the company pilot; he retired from MGP in 1995.
He was a member of St. Benedict Parish in Atchison, V.F.W. Post #1175, Fleming-Jackson-Seever Post #6 of the American Legion, and MH-MA 500 Club. He enjoyed playing golf and got a hole-in-one on July 4, 1970, at Myrtle Beach in South Carolina. He was awarded Maur Hill Prep Alumni of the year in May of 1986.
He is survived by his wife Marlene, his daughters, Kathy, Diann, and Lisa; his sons, Mike, Rick and Mark; thirteen grandchildren; thirteen great-grandchildren; and his sister, Barbara Flory.
He is preceded in death by his parents and a brother, Albert.
A Parish Rosary on December 27, 2019, and Mass of Christian burial on Dec. 28, 2019, were held at St. Benedict Church Parish. Arensberg Pruett Funeral Home of Atchison, KS was in charge of the funeral.
In lieu of flowers, memorial contributions are suggested to Achievement Services, Benedictine College Athletic Dept. or Maur Hill-Mount Academy.
Source:https://www.arensbergpruett.com/obituary/edward-gellings