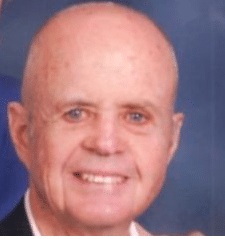 Peter T. Potts "Headed West", October 15, 2019.
Peter began his F-100 pilot training at Luke AFB where he met his wife, Olta and then was sent to Wethersfield AB, England. He then was assigned to Nellis AFB where he served as Instructor Pilot at the Fighter Weapons School. He survived being a Forward Air Controller in Vietnam (even tough he really was a fighter pilot) as evidenced by his going mach 4 with his hair on fire on his Ducati. As Forward Air Controller, he was awarded the Distinguished Flying Cross and The Silver Star for bravery by the Air Force Chief of Staff.
He resigned from the Air Force in 1967 to become a United Airlines pilot. In 1995 he retired as an International Captain completing 38 years of accident free flying.
He took his final flight on October 15th, losing the battle to pancreatic cancer. He is survived by his wife of 59 years, Olta, daughter Marjorie Lopez and son Harlan, three grandchildren and four great grandchildren, sisters Patti, Jenifer and brother Michael. A beautiful, moving tribute by the Highland Lakes Honor Guard with narrated flag folding, gun salute and taps at the memorial service was attended by many friends and golf partners.