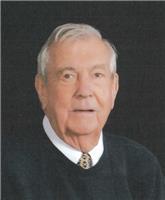 Everett T. "Razz" Raspberry "Headed West" on September 26, 2019. Razz was born September 9, 1932 in Macon, Georgia to Hazel Cowan and Everett T. Raspberry Sr. He attended grade and high school in Macon prior to enrolling in the Georgia Institute of Technology from which he graduated with his BS Degree and a USAF commission in 1954. Just prior to graduation, Razz met Betty Joann Dennard and they were married September 12, 1954.
After completion of Primary and Basic Flight School, the couple spent the next 23 years at various bases including Turner AFB, GA; Misawa AB, Japan; Nellis AFB, NV; HQUSAF, DC; and Eglin AFB, FL. While Joann anchored the home front, Razz was able to pursue his Fighter Pilot dreams. While at Misawa, he was selected as the PACAF representative to the USAF Fighter Weapons Instructor School, Class 61-D. He graduated Top Gun in his class and was then selected to return to the school as an instructor and later as an OT&E Project Manager/Pilot.
Razz' s initial South East Asia tour was with the 8th TFW at Ubon RTAFB where he completed a 100 Mission tour into NVN as Flight Lead and Strike Force Commander and is credited with downing two MiG aircraft in aerial combat. He completed three more TDY assignments to SEA as a Combat Introduction Team Chief/Pilot. He was responsible for the introduction of one air-to-air missile and two air-to-ground missile systems.
Following an abbreviated tour at HQUSAF, Razz was assigned to the 4485th Test Squadron, Eglin AFB, FL as the Operations Officer and later spent three years as the Commander.
He and Joann retired from active duty in 1977. His service awards include the Silver Star, Distinguished Flying Cross, Bronze Star, Meritorious Service Medal, and the Air Medal with ten Oak Leaf Clusters. Following retirement, he was associated with Armament Systems, Inc. for 26 years as an analyst and Program Manager.
Razz was a proud member of the First Presbyterian Church of Fort Walton Beach and served on a number of occasions as a Deacon and Ruling Elder. He was also a member of Delta Tau Delta Fraternity, Krewe of Bowlegs, Order of Daedalians and the Quiet Birdmen.
Col. Raspberry's wife Joann passed away shortly after on October 22, 2019. They are survived by their son, Denny Raspberry; their daughter, Gayle Carmichael; four grandchildren, and three great grandchildren.
A Funeral Service was held on Tuesday, October 1, 2019 at the First Presbyterian Church of Fort Walton Beach, FL.  Burial for Col. Raspberry followed at Beal Memorial Cemetery, Fort Walton Beach, FL.
Source: https://www.legacy.com/obituaries/nwfdailynews/obituary.aspx?pid=194032356