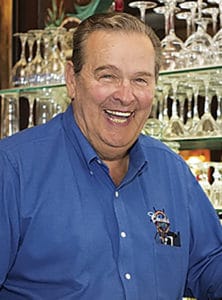 Capt. William F. Claudio "Headed West" October 26, 2019 at his home in Freeport, NY.
Born on  July 5, 1938, Bill grew up in Greenport and achieved his adolescent dream of flying in the Air Force. After a brief stint at the Coast Guard Academy, he spent four years in the Air Force and then attended Parks College of Aeronautical Technology at St. Louis University. In 1963, he re-enlisted and spent seven more as an Air Force fighter pilot.
As a Vietnam War-era captain, he flew 216 combat missions for the Air Force, earning 20 air medals among his various citations. Bill left the military in 1970, spent several years in real estate in Atlanta and Colorado, and then returned to an aviation-related field in Long Island when he worked for Hazeltine Corporation in Greenlawn. He served four years as the corporation's director of international marketing, focusing mostly on selling black box equipment for aircraft throughout Asia.
He also worked for the telecommunications company MCI and also bought and sold jets for an aircraft company in Maryland.
He traveled the world in his career before returning to the family business, the Greenport Restaurant in Newport NY.
Bill Claudio, former co-owner of iconic Greenport restaurant, dies at 81