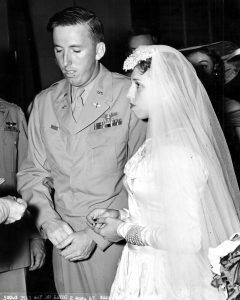 SSS Member Col (Hank) Paul Rettinger, 95 headed west Sunday, February 19, 2017. Hank is survived by his wife of 69 years, Barbara J. Rettinger and three children, Paul Rettinger, Battleground WA. Lynn Newby, Austin, TX, & Babbs Chittenden, San Antonio, TX.
Hank enlisted in the Army Air Corps Aviation Cadet Program in 1943 and as a Fighter Pilot and Commander. He flew missions in World War II Asiatic Pacific Campaign, The Berlin Air Lift and the Vietnam War, where he received the Distinguished Flying Cross, Bronze Star Medal, Presidential Unit Citation along with numerous other decorations and service awards. In addition to these achievements, Hank was military advisor to the Royal Danish Air Force and Wing Commander of the 414th Fighter Group.
Hank and Barbara (Bobbie) have resided in the Onion Creek golf community for 30 years and are members of Santa Cruz Catholic Church, Buda, Texas.
During their retirement years, Hank and Bobbie enjoyed cruising and traveling.
A Rosary was recited with A Mass of Christian Burial to follow in Santa Cruz Catholic Church, Buda, TX. Interment followed in Fort Sam Houston National Cemetery.