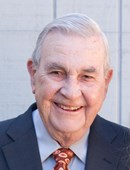 SSS member Charles A. Watry headed west on February 27, 2017 at age 93. He was as in the Army Air Corps/USAF from 1944 to 1974. He was  actively flying during entire 30 year career, and retired as a Colonel.
He flew F-100's for three years with the 79th Fighter Bomber Squadron in the UK from 1957-1960.
Charles Andrew Watry December 9, 1923 – February 27, 2017 Fairfield, CA Charles Andrew Watry, born December 9, 1923, in Boise, Idaho, died peacefully at home in Fairfield, California, on Monday, February 27, 2017. Charles was the eldest son of Peter Joseph Watry of Port Washington, Wisconsin and Sarah Elizabeth Watry (nee Howey) of Beardstown, Illinois. He is survived by his two younger brothers, David Howey Watry of San Diego and Peter Johannes Watry of Chula Vista, his sons Duncan James Watry (Ellen Greenberg) of Piedmont and Andrew Duff Watry (Margaret Baumgartner) of Berkeley. He is also survived by his four grandchildren Laura, Luke, Hannah, and Emma Watry, and numerous nieces and nephews. He was preceded in death by Jacqueline Louise Watry (nee Duff), his wife of 43 years. Charles grew up in Glendale, graduating from Herbert Hoover High School in Glendale in 1942. He attended Glendale Junior College after high school, and Charles and Jackie were married in 1948 in Glendale. He earned a bachelor's degree in English from the University of Southern California in 1949, and he did graduate-level studies at the US Army War College in 1966-67. His military life started when he entered the US Army Air Corps in 1943, and he went on to a long career as a combat pilot, retiring in 1974 as a colonel. In his career, he flew transports in Europe in World War II, attack bombers in the Korean War, and then transitioned to two decades flying fighter jets, with several tours of duty in Southeast Asia during the Vietnam War. He served several years at the Pentagon, and also at Tactical Air Command Headquarters at Langley AFB, Virginia. After retiring from the Air Force in 1974, Charles embarked on the second career he had always wanted journalism and writing. He founded and published the Pacific Flyer, a monthly general aviation newspaper in Southern California. He also began writing a series of self-published histories of his times in the Air Force, and created several novels and screenplays. He helped other World War II veterans write and publish their personal stories, and contributed to numerous scholarly histories of flying during the war. He was an active member of the Old Bold Pilots and the Daedalians, and enjoyed socializing with these other pilots. He was a lifelong "doer" who sought out new experiences, especially in flying and competitive events such as sports car and sailboat racing, and he was active in local yacht clubs throughout his life. In retirement, this love of boating led him to volunteer for the Coast Guard Auxiliary in Oceanside, CA. His other great love was swing jazz music, stemming from his teen years when he played drums in local bands in Los Angeles. In retirement, he broadened this interest, taking up saxophone, trumpet and trombone. He organized several local community jazz bands in Carlsbad, CA, and enjoyed playing and socializing with his band members. A funeral service will be held in the Wee-Kirk-of-the-Heather Chapel at Forest Lawn Memorial Park in Glendale, CA, on Wednesday, March 8, 2017 at 2:00pm. A reception will follow at 4:30pm at Bourbon Steak Restaurant in The Americana at Brand, 237 S. Brand Blvd., Glendale, CA.