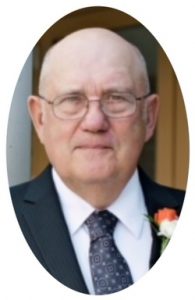 SSS Member Henry "Hank" Gallmeyer, 75, headed west on February 2, 2018, at Adams Memorial Hospital following a courageous battle with cancer. Hank leaves behind many life-long, dedicated friends, and a loving family, especially his faithful wife of nearly 52 years of marriage, Carolyn, and proud children and grandchildren.
Hank was a fighter pilot with the 122nd Fighter Wing of the Air National Guard in Fort Wayne, Indiana. Lt Col Gallmeyer logged 3645 hours of flight time in the F-84F, F-100C, F-4C, F-4E and F-16 while proudly serving his country over a span of 38 years.
Hank was an active member of St. Paul Lutheran Church in Preble, IN, where he served as a church elder. He also served as a member of the National Board of Directors for Lutherans for Life.
Hank was preceded in death by his parents, Emelie and Harold Gallmeyer; half-sister Lucille Steffey, and sister-in-law, Jane Gallmeyer. He is survived by his faithful, dedicated wife, Carolyn (Thiele) Gallmeyer; daughters Kristina (Gallmeyer) Vaughn of Evergreen, CO, and Lisa Gallmeyer (George Andreadakis) of Minnetonka, MN; son Ryan Gallmeyer (Tracy), of Carmel, IN; granddaughters Anna Vaughn, Mia Vaughn, Paige Gallmeyer and Brynn Gallmeyer; grandson, Beckett Gallmeyer; brother, Jim Gallmeyer of New Haven, IN; as well as a loving extended family.
Funeral services for Hank will be held at 11:00 a.m. Saturday, February 10, 2018 at St. Paul Lutheran Church – Preble with Rev. Dr. Daniel Brege officiating. Burial will follow in the church cemetery with military graveside services being conducted by the American Legion Post 43 Color Guard. Friends and family will be received from 2-5 and 6-8 p.m. Friday in the Zwick & Jahn Funeral Home in Decatur and one hour prior to services at the church on Saturday.
In lieu of flowers, Hank's family requests that preferred memorials are given in his honor to St. Paul Lutheran Church – Preble, The Hope Clinic (Decatur), or Family LifeCare – Hospice.