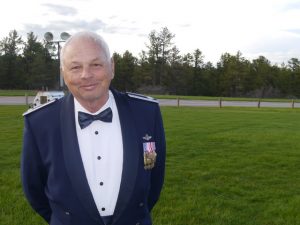 SSS Member Ferdinand "Jack" Funke, 78, of Boise, ID Headed West Sunday, February 11, 2018, after a courageous battle with pancreatic cancer.  Jack said, "If this obituary has been published, then I have slipped the surly bonds and flown West."  Jack was born October 29, 1939, in Evansville, Indiana to Carl and Laura Ruth (Drake) Funke.  Despite memories of WWII food and fuel rationing, Jack had a very happy childhood including memories of winning the Evansville Soap Box Derby and getting his Private Pilot License at age 17.  His love of flying would color his entire life.  Jack was raised Catholic and attended Sacred Heart School and Mater Dei High School in Evansville, IN.
After a year at Evansville College and feeling a responsibility to his parents, Jack applied and was accepted into the United States Air Force Aviation Cadet Program for Navigator Training.  In 1960, on his 21st birthday and five days after completing Navigator Training School at Harlingen AFB, TX, Jack married his high school sweetheart and love of his life Judy Schmitt of Evansville, IN.
Jack's first assignment was the 445th Fighter Interceptor Squadron F-101B at Wurtsmith AFB, MI where he and Judy spent 4 years and began their family with the births of Renee, Elizabeth, and Bret.  The turmoil of flying activity during the Cuban Missile Crisis was memorable.  Jack was reassigned to the 444th Fighter Interceptor Squadron flying the  F-101B at Charleston AFB, SC where his fourth child Jeffrey was born in 1966.   Jack was finally accepted to Pilot Training at Reese AFB, TX that year and graduated 2nd in his class.  He was "rewarded with an all-expense paid trip to the 614th Tactical Fighter Squadron, Phan Rang AB, Vietnam" where he flew 222 combat missions in the F-100D.  Upon return, Jack spent 3 years as a T-37 Instructor Pilot in Selma, Alabama.
Jack then received orders to fly the F-111A with the 429th Tactical Fighter Squadron in Las Vegas, NV and was rewarded with another all-expense paid trip" to Takhli AB, Thailand in 1972. He flew 147 combat missions in Vietnam, Laos, and Cambodia. Following his second combat tour, Jack became an F-111 Instructor and Operations Officer in the 428th Tactical Fighter Squadron at Nellis AFB, NV.
In 1976, Jack was promoted to Lieutenant Colonel. Shortly thereafter, the entire Wing, four Squadrons, approximately 75 F-111A aircraft, all support units and personnel moved from Nellis AFB, NV to Mtn. Home AFB, ID where Jack was an Operations Officer then Commander of the 391st Tactical Fighter Squadron.  After a 3year assignment involving NATO Allied Air Forces Central Europe in Boerfink, W. Germany, Jack and his family (who had the unique experience of living autonomously in a German village) returned to Mtn. Home AFB in 1982. Jack was Chief of Quality Assurance and continued with Flight Instructor duties until retirement from the Air Force in 1986.
Jack was awarded the Distinguished Flying Cross with 2 OLC, Defense Meritorious Service Medal, Meritorious Service Medal with 1 OLC, Air Medal with 20 OLC, AF Commendation Medal, AF Outstanding Unit Award with Valor Device and 5 OLC, and Vietnam Service Medal with 5 Bronze Stars. Jack also found time to obtain a B.S. in Aeronautical Studies and an M.S. in Aeronautical Science from Embry-Riddle Aeronautical University.
Jack spent his second career as a civilian and empty-nester when he and Judy headed to Lancaster, CA.  Initially, he was Chief Flight Test Conductor at Rockwell Corp. In 1988, Jack joined Northrop Grumman's B-2 Spirit Stealth Bomber program as Chief Flight Test Conductor until the last day of the 20th century in 1999.  Jack's final assignment was as Retiree in Boise, ID where he built his house and nurtured the landscape, tinkered in his shop, and played with his toys. Jack's greatest joy was spending the last 18 years celebrating life's precious moments and milestones with Judy, Children, Grandchildren, and Friends.
Jack created many wonderful memories for his family. Treasured experiences were:  boating and waterskiing on Lake Martin, Lake Mead, and Lake Powell; alpine skiing, camping, exploring, and elk hunting in the beautiful mountains of Idaho; fly fishing the Boise River; bass fishing the Snake River; chukar hunting the Owyhee and Bruneau canyons; pheasant hunting South Dakota and Iowa; constructing heirloom quality furniture; feasting on an abundance of delicious cuisine; displaying festive holiday decorations; relaxing by a crackling fire; administering the Oath of Office to grandson at U.S. Air Force Commissioning Ceremony; flying his Beechcraft Bonanza, with loved ones,  all over the western U.S. for adventures or to visit friends and grandchildren. It was impressive to witness Jack's passion, knowledge, and proficiency regarding high-performance automobiles and planes.  He was generous to a fault. However, Jack's frugal roots constantly led him to one of his many cheerful, self-imposed challenges…to get his ski resort lift pass price down to $1 per run before the end of the day by skiing lightning fast without lodge breaks, and thus sacrificing the more indulgent side of the sport.
Jack will be remembered as an affectionate, gentleman with a playful sense of humor; who was unfailingly honest, humble, honorable, and a solid cornerstone for his family.  Characterized by his exceptional attention to detail and keen observation in every aspect of his life, Jack's final words to all would likely have been "Check Six!"      Jack is survived by his wife of 57 years, Judy.  He is also survived by his four children: Renee Sheehy, Beth Gall (Rob), Bret Funke (Georgia), and Jeff Funke (Heidi); his ten grandchildren: Drew, Gabe, Trevor, Sydnee, Drake, Zack, Nick, Isabel, Melissa, and Mitchell; his great-grandchild Benjamin; and his brother Frank. Jack was preceded in death by his parents Carl and Ruth and his sister Mary Beth.
Military Funeral Honors and Interment will be conducted on Friday, June 15, 2018, at 2:00 pm at the Idaho State Veterans Cemetery in Boise. A Celebration of Life reception will follow at 3:00 pm at Bella Aquila Restaurant in Eagle. In lieu of flowers, memorial donations may be made to the Boise VA Hospital Community Living Center.