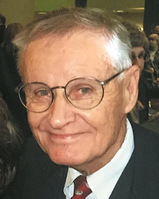 John Driscoll Schaaf  (Maj USAF, Ret) – September 16, 1928 – January 26, 2021
Beaufort, South Carolina – John (Jack) Driscoll Schaaf, 92, entered into eternal rest with our Lord Jesus Christ on Tuesday, January 26, 2021, on Lady's Island, South Carolina with his wife Nancy by his side.
He was born to Walter and May Schaaf on September 16, 1928, in Savannah, Georgia. He is survived by his loving wife of 62 years, Nancy Blitch Schaaf, and his four devoted children, Kathy Curry and husband Kevin, John Schaaf and wife Ellen, Brian Schaaf and wife Lisa, Sally Tompkins, and husband Joseph. Jack, affectionately called Pappy, will also be deeply missed by his thirteen grandchildren and sister-in-law, Sally Winship and husband Gerry, of Lee's Summit, Missouri. He was preceded in death by his parents and his brothers Walter Schaaf and James Schaaf, both of Savannah, Georgia.
He graduated from Benedictine Military High School, the University of Georgia (undergraduate degree), and the University of Alabama (graduate degree). In 1955, he and a friend braved the Savannah River tides and swam a 14 mile stretch from downtown Savannah to Tybee Island, a record that stood for many years.
The strength and foundation of Jack's life was his Catholic faith and love for his family, his country, and the southern coastal outdoors. He was a parishioner at St. Peter's Catholic Church for nearly 40 years where he was a lector, usher, and president of the parish council for several terms. His sense of civic service extended to every organization where he was a member, serving on the Board of Directors of SAFE Federal Credit Union, past-president of Rotary Club of Beaufort, president of the Shammy Creek HOA, and Beaufort County Chamber of Commerce member for many years.
His sense of duty manifested itself in his call to serve the country he loved. He had a distinguished 26-year military career. He served in the US Navy, Georgia Air National Guard, and in the US Air Force. He served two combat tours in Vietnam in the F-100 and F-105 and was awarded three Distinguished Flying Crosses for acts of heroism. Upon retiring from the military, Jack worked for ING Financial Partners. He continued to honor the country he loved by holding 28 consecutive Shammy Creek 4th of July parades.
Jack truly lived his faith in God, exemplifying the words of Mother Teresa "If you want to change the world, go home and love your family". His absolute devotion to Nancy was witnessed by all who knew him. He touched the lives of each of his grandchildren by teaching each to drive in his old Montero on the dusty back roads of Lady's Island where he cautioned them on the dangers of "unnecessary backing". He shared his love of the natural world with all of us through the "reptile museum" kept in his garage and taught us to fish, crab, and hunt marsh hens at Shammy Creek.
A Funeral Mass was held on January 30, 2021, at Saint Peter's Catholic Church, Beaufort, SC with a private burial following.
In lieu of flowers, please send memorial contributions to the Daughters of St. Paul, 243 Kings Street, Charleston, SC 29401, www.pauline.org.
Online condolences may be sent to the Schaaf family via www.andersonfuneralhomebeaufortsc.com.