[vc_row css_animation="" row_type="row" use_row_as_full_screen_section="no" type="full_width" angled_section="no" text_align="left" background_image_as_pattern="without_pattern"][vc_column][vc_column_text]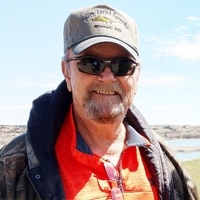 Roger Root, 69, of Winner SD headed west on Saturday, May 4th, 2019 at the Sanford Hospital in Sioux Falls, SD.  Funeral service will be held on Thursday, May 9th, 2019 at 10:00 AM at the Immaculate Conception Catholic Church in Winner.  Burial will follow in the Winner City Cemetery.  A visitation will be held on Wednesday, May 8th, 2019 at the church from 6-7PM with a prayer service beginning at 7:00 PM.
Roger Dana Root was born December 28, 1949, to Frank and Louise (Merchen) Root in Los Angeles, California. Roger graduated from Winner High School in 1968. After high school, he attended South Dakota State University in Brookings, South Dakota where he was on the golf and rifle teams and received his private pilot's license.
Roger was no doubt an adventure seeker – whether it be fighter aircraft, crop dusting, carnival rides, amusement parks, riding his Harley Davidson motorcycle or duck hunting in Mexico, he loved the thrill. He was a loving husband, father, brother and grandfather, phenomenal pilot, excellent marksman, successful businessman, and diligent farmer.
After some college, Roger joined the South Dakota Air National Guard in 1971. He graduated from Combat Crew Training in 1972 in Tuscon, Arizona combat ready in the F-100 fighter. Roger spent twenty-five years and over 3,000 total hours in single-seat supersonic Air Force jet fighters, then another 3 years in support aircraft. Roger flew 700+ hours in the F-100, 2,000 hours in the A-7, over 300 hours in the F-16, in addition to countless hours in the T-37, T-38, Metroliner and Beechcraft 1900. He retired in 1999 after 28 years of service with the rank of Lt. Colonel. Throughout his time with the Air National Guard, Roger flew all over the world, with trips to Panama, Key West, Norway, Spain, Portugal, Denmark and many more. He was the Top Gun in the squadron multiple times. Roger had the opportunity (and boy did he jump on it!) to don his flight suit once again and return to the fighter cockpit by taking a final flight in the F-100 in Fort Wayne, Indiana in May 2016.
In addition to serving as a part-time pilot in the South Dakota Air National Guard, Roger operated the family farm while also maintaining a full-time crop dusting service (Root's Aerial Crop Spraying, est. 1971) with his longtime friend and business partner Don Bice. In 1994, Roger started another successful business by opening a Subway franchise in Winner. Roger retired from crop dusting in 2011 (after 39 years of aerial spraying) and continued farming with his son until his passing.
Roger was very engaged in the Winner community and supporter of local athletics, as well as a VFW Member (Past Commander), Legion member, Winner Country Club board member, and former President of the Winner City Council. He enjoyed spending time with family, checking fields, telling stories of his past, catching up on his daily news, playing cards with the breakfast crew and the occasional golf game at the Winner Country Club. Roger was a curious fellow and always liked to be "in the know". I'm sure he will be keeping close tabs on us all from heaven. Roger was most proud of his family, and his family was extremely proud of him.
Roger is survived by his wife, Linda Root of Winner, son Jamie (Laura) Root of Winner, daughter Kelli (Zach) McCready of Chamberlain and granddaughters Addy, Rylee, Gracie and Lola and brother David Root of Renner, SD.
Roger is preceded in death by his parents, Frank and Louise Root, son Jesse Root, step-sisters Wanda Calquist and Betty Speed, and Mother and Father-in-law George and Betty LaCompte.
Source: Mason Funeral Home
[/vc_column_text][/vc_column][/vc_row]