A recent What's New post has aided in the sale of the two F-100's that were up for auction. Darryl Weflen and his wife bought F-100 #N418FS (one of the two Tracor F models) from the auction at Mojave.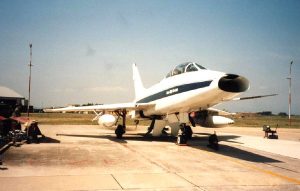 Darryl says "this acquisition was not one that had a lot of forethought put into it and we will be heading to Mojave in the next couple weeks to have a look at the F-100F." He's looking for advice and expertise on how to move it and welcomes anyone who wants to head there to see the F-100. Darryl says he'll get you a security pass.
N418FS was piloted by Harv Damschen in Europe. Harv says "George Henry and I flew 418 from Wittmund, Germany to Abu Dhabi, UAE to tow aerial targets for the UAE. We were working for TRACOR towing "darts" for the German Air Force out of Wittmund, Germany with forays to Laage, Germany (to tow for the German MiG-29s), to Deccimomannu, Sardinia for German deployments, and many other locations."
For information on how to contact Darryl Weflen, ask Win.