We continue to receive news regarding members who are fighting COVID or with other health problems.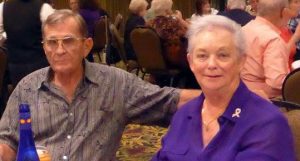 SSS Charter member, Misty 75 Chuck Holden, Col (USAF) Ret Headed West February 10th in Las Vegas after a long hospitalization fighting Covid. He was commissioned before age 21 had his 81st birthday.

Chuck and Rose at F-100 reunion
As many of us know, Chuck first experienced combat in 1963 Vietnam as a B-26 Navigator and was awarded the Purple Heart during one of his 51 combat missions. Later, at Phu Cat AB, he flew the F-100 as Misty 75 and was awarded a Silver Star and several DFC's. His third combat tour was with n the 55th "triple nickel"  F-4 squadron he flew in the Christmas bombing for 12 days as an F-4 counter-air pilot (looking for MIGs) and providing protection for the B-52's.
After retiring, Chuck owned a Beechcraft light and flew for various executive Jet companies in Las Vegas as a Learjet Pilot until December 2020!
Please keep Chuck and other members who are having health issues in your prayers. We know that there are a number of members who have received their COVID vaccinations and we hope that the rest of us are able to get our shots within the next few weeks.