18 November 1964 – Capt Bill Martin was the first military service member in Pittsylvania County, VA to die in the Vietnam War in 1964.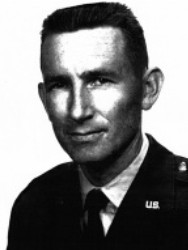 William Reynolds Martin was commissioned through the Air Force Reserve Officer Training Corps program at Virginia Military Institute in June 1955. In March 1957, he completed flight training at Laredo AFB, TX, and was awarded the rating of Pilot.
On 18 November 1964, Captain William Reynolds Martin was serving as an F-100 Super Sabre Pilot of the 613th Tactical Fighter Squadron, DaNang Air Base, Vietnam, during the Vietnam War.
On that date, Capt Martin was in F-100D #552885 leading a flight of two F-100 Super Sabre aircraft escorting an unarmed RF-101 Voodoo aircraft on a mission of major importance. As they approached the mission area in Laos, a heavy barrage of hostile ground fire was directed at the unarmed aircraft. Capt Martin reacted immediately by repeatedly flying his aircraft over the gun emplacements at extremely low altitudes to divert hostile fire from the RF-101 plane. Capt Martin's aggressiveness and determination in pressing his attack allowed the RF-101 aircraft to withdraw safely.
On his 3rd overflight of the hostile positions, the full force of their gun emplacements was directed at his aircraft, resulting in his being killed in action. Capt Martin's extraordinary heroism and superb airmanship that day earned him, at the cost of his life, the U.S. Air Force's second-highest award for valor, the Air Force Cross.
Source:https://militaryhallofhonor.com/honoree-record.php?id=262672