12 September 1968 – F-100D pilot Capt. Ronald Fogleman is shot down in the I Corps area 200 miles (320 km) north of Bien Hoa while flying aircraft 56-3245.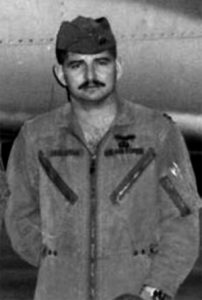 Ron ejected over hostile territory and hid on the ground in a rice paddy, submerged up to his neck, undetected by the enemy who was as close as 20 yards from him.
He was picked up by a Cobra helicopter and rode out clinging to the chopper's open ammo bay door until reaching the safety of a Special Forces camp. The next day he went out again on one of the 240 combat missions he flew while stationed in Vietnam. Fogleman became the only Super Sabre pilot ever rescued by riding out on a Cobra helicopter. (1)
For more about Ron Fogleman, see his profile page at https://supersabresociety.com/biography/ronald-fogleman/
12 September 1969 – Major A.W. Steinhauer was assigned to the 612th TFS out of Phan Rang AB, Vietnam. On a mission to attack a river control boat, his F-100D #553512 was hit by gunfire and he was forced to eject. Steinhauer was rescued by an Army Helo and was uninjured.
Source:(1) https://www.defensemedianetwork.com/stories/f-100-super-sabre-flew-most-missions-in-vietnam/)and https://www.atalink.org/content/2013/11/01/2013-general-ronald-r-fogleman-usaf-ret/